Pizzeria
Deli
Convenient Store & Supermarket
Bakery
Bar and Night Club
Cafe
Candy Shop
Coffe Shop
Food Truck
Frozen Yoghurt
Ice Cream Shop
Fruit Juice Shop
Liquor Store
Specialty Food
Wine Shop
Winery
Doughnut Shop
Hotel Room Service
Beach
Restaurant
If you have any questions,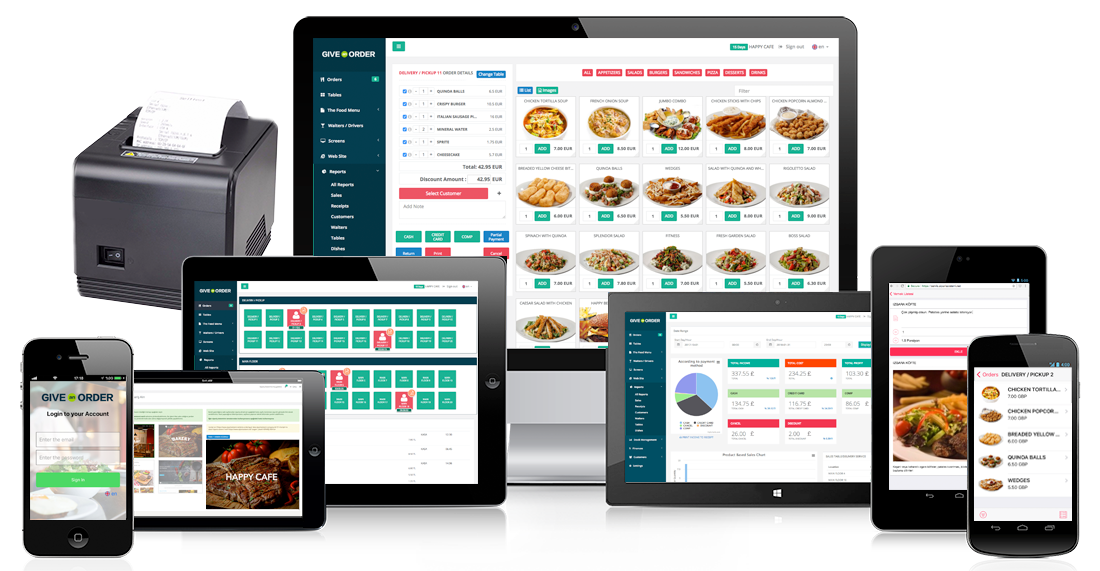 USE ON
ANY DEVICE
You can use GiveAnOrder on any laptop, PC, iPad or Android tablet.

Inventory Management, Current Movements, Pre-Accounting, Personnel Transactions, Track Your Delivery Service in your company.

With an infrastructure that is powerful enough to do all of this in a single system, Give an Order is easy to use and simple interface that allows you to adapt to the system for minutes without any training.
NO INSTALLATION, NO EQUIPMENT
Giveanorder does not require installation and extra equipment. You can do all kinds of processing online from your tablet, computer, mobile phone and reach the admin panel .
EASY USE - QUICK INTEGRATION
You can just start taking orders immediately by adding the menus and the tables in your business. You can follow all your orders from one screen. The admin panel is very easy to use.
FULL CONTROL
You can easily reach your business from anywhere in the world.
REASONABLE PRICES
Affordable rates starting from $75. No maintenance fee.
"Having implemented a GiveAnOrder POS system in my small business, I can confidently say it's been a game-changer. It streamlines our sales process and allows us to provide faster and more accurate customer service. Plus, the detailed sales reports give us valuable insights for making informed decisions. The transition to GiveAnOrder POS system was smooth, and the benefits have been undeniable. It's a must-have for any business looking to enhance operations and customer satisfaction."
John Smith
"Recently upgraded to GiveAnOrder POS system for my restaurant, and I'm already seeing the positive impact it's having on my business. The intuitive interface makes order processing a breeze, reducing wait times for customers. The system's reporting tools have also been a game-changer, providing valuable insights into sales trends and helping me make data-driven decisions. Overall, this POS system has elevated my restaurant's operations and customer service to a whole new level. Highly recommended!"
Paul Hughes
FREE WEB SITES
You can easily create your own site with your own Web Site Themes. By adding a menu, you can start to take orders.
INCOME EXPENSE MANAGEMENT
With Give an Order, you can easily follow your debts and receivables, manage your income and expenses. You control the money in your business!
INVENTORY MANAGEMENT
You can easily access the inventory entries and follow-up of your products. Critical stock feature informs you about products that are decreasing in stock.
PRESCRIPTION MANAGEMENT
You can define the raw materials used in your products (grams, pieces, etc.) while creating your meal prescription. You can control your products and stocks with prescription.
BUSINESS OWNER MANAGEMENT PANEL
From specially developed screens, business owners can follow orders, instantly access all the receipts , instant endorsement, sales charts according to products, waiter endorsement, table occupancy rates can be accessed anytime, anywhere.
ACCOUNTING FREEZING
You can suspend your account at any time, and start using it again at any time. When you suspend your account and start using it again, you will not lose any information and you will be able to retrieve all your information again.
CONTINUOUS UPDATE
With our web-based software, you automatically start to use all the improvements. This ensures that the system you use is always up to date, with all the new features.
CASE FOLLOW - DETAILED REPORTS
You can track your income / expense, order quantity, average revenue per order, personnel reports etc. at any time (including backwards).
OPERATING HOUR ADJUSTMENT
Choose days and hours to accept delivery orders
ORDER NOTES
You can add customer specific requests and all details about the order in the note field. You can enter photos, descriptions and additional options for each product in your menu.
SPLIT PAYMENT
You can easily split the payment. You can receive the payment either individually or separately.
CHANGE CALCULATION
With GiveAnOrder, incorrectly payment calculation and the lost check problems will be over. GiveAnOrder calculates changes for you.